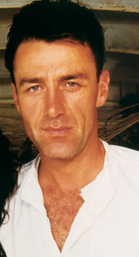 Werner Stocker
(April 7, 1955 – May 27, 1993) was a German born actor. He studied acting at the Munich Acting School and at the Otto Falkenberg school. The director Michael Verhoeven discovered him and heappeared in numerous German language films such as
Die weisse Rose
(1982),
Herbstmilch
(1989),
Rama Dama
(1991),
Schatten der Liebe
(1992),
Rosenemil
(1992) as well as several German TV series  such as
Die Wiesingers
,
Derrick
,
Der Alte
, and
Soko 5113
. In 1987, he appeared in the English language
The Dirty Dozen: Deadly Mission.
He received the German Movie Award as Best Younger Actor in 1983.
In 1992, he was cast in the American/Canadian television series, Highlander in which he played the priest, Darius, friend and mentor to Duncan MacLeod.  Darius, a former warlord, and the recipient of the only recorded Light Quickening, was played with great humanity by Stocker.  Creative Consultant David Abramovitz said, "Darius, originally...was written as almost to look like the Hunchback of Notre Dame, to be physically ugly... with a glorious soul. ...they cast this young, handsome German actor named Werner Stocker..... And it seemed that the Germans, who were putting up a great deal of money, didn't want the only German actor in the show to be ugly; so he wasn't ugly. And this was one of the cases where politics won out and it didn't hurt anything because he was wonderful in the part....He had an elegance, presence, and I was happy with the episode "Band of Brothers".
Just before shooting began on the episode, The Hunters, Stocker announced he was ill, suffering from a brain tumor, and would be unavailable.  Massive rewrites, followed by Stocker's unexpected death at 38, changed the direction of the series.  He appeared in only 6 episodes, two of them only through stock footage, though many more had originally been planned.
Adrian Paul commented, "[He] had a very ethereal quality himself and I think Werner played [Darius] very well."
The promotional releases reported that Darius was "played with soulful grace by...Stocker."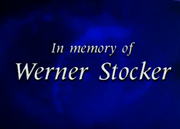 Note: Stocker died on May 27, 1993 from complications stemming from a brain tumor. The episodes Unholy Alliance were dedicated to him.