Walter Graham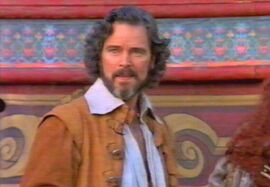 Statistics

Name
Walter Graham
Born
1158, Lincoln, England
First Death
1199, killed by thieves
Teachers
Marcus Korolus
Origin
English
Watchers

Elena Gutman

Status
Alive
Occupation
Actor, Writer, Impressario, former troubadour
Portrayed by 
Ron Halder
A wandering troubadour, Walter Graham was attacked and killed by bandits in 1199. His first mentor was Marcus Korolus.
Graham was a poet and playwright, but unfortunately, his was only ever of mediocre talent. Graham, however, did have a one prominent skill: He could recognize and promote genius, including men such as William Shakespeare and the composer Benjamin Briton.
In 1663, the Immortal Duncan MacLeod, joined Graham's troupe of actors, and with it the watcher William Raleigh. Raleigh observed both MacLeod and Graham from 1663-1665.  Graham and his troupe traveled through England and performed such plays as Shakespeare's "Taming of the Shrew" in which MacLeod played Kate, and Graham's own play "The Blushing Bridegroom."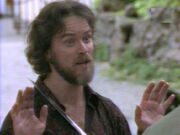 In the 1990s, Graham discovered a new genius: The young pianist Claudia Jardine. He knew she would one day be an immortal and that she was under the care of Duncan MacLeod. Graham watched Claudia from a distance, but in 1995, he decided to kill her to trigger her immortality, and thus preserve her youth and her talent for eternity. While Claudia rehearsed for a concert in Seacouver, Graham tried to kill her twice, but both attacks were thwarted by MacLeod.
Graham finally made himself known, and explained his plan to MacLeod.  MacLeod was horrified, and warned him off. Graham, however, was obsessed, he shot Claudia shortly afterwards, giving her her First Death.  At first elated by her new found immortality, Claudia's talent, it seemed, disappeared with her mortality. Graham pushed her frantically, trying to force her back to her original form. Desperate to be a part of genius, he pushed too hard.  Duncan drove him away, and told Claudia she must learn the blade, that her life had changed forever.  Graham ambushed MacLeod outside a Buddhist Retreat where he planned on stashing Claudia until she could adjust.  He challenged MacLeod, and was disarmed, then MacLeod forced him to swear to leave Claudia alone, he does so, but with fingers crossed.  MacLeod demanded to see his fingers, and made him swear again.
Graham said, "I've watched the stars, burn bright and truer, and then with a flash disappear. But still, I'm the one that endures." MacLeod asked where the quote came from and Graham told him it's one of his own, MacLeod was marginally impressed.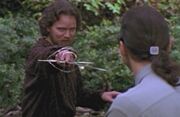 In March 1998, Graham was preparing for the premiere of his new play, "Marvin and Cressida." Although the performance took place only in Passaic, rather than Broadway, Graham got good reviews.