Timon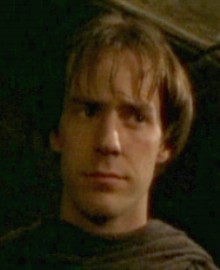 Statistics

Born
A.D. 1017 - Thessaloniki, Greece.
First Death
A.D. 1039 - Mistaken for a burglar, while coming home drunk.
Teachers
Thanos of Athens
Pupils
Terence Coventry
Origin
Greek
Watchers
Brother David
Status
Deceased, 1658 - Beheaded by Antonius Kalas
Occupation
Monk
Tutor to nobles sons
Scribe
Poet
Artisan
Philosopher
Portrayed by 
Demetri Goritsas
Timon
suffered his
First Death
in A.D. 1039, when he came home drunk and was mistaken for a burglar. He was not a strong fighter, but survived the centuries by prudence and caution.
In all that time, he operated as a writer and poet, a craftsman and a shepherd. He also served as a teacher for young nobleman at the Austrian court. But when Martin Hyde arrived in 1655, he fled.
Taking Refuge
Edit
Timon retired from the secular life for a long time, taking refuge in Brother Paul's Monastery of St. Christopher, where he could again find peace. There, in the fall of 1658, he met Duncan MacLeod.
At the time, Duncan couldn't read English, so Timon gave him a book: Shakespeare's
Macbeth
, and offered to teach Duncan how to read it. Timon and the Scot became good friends.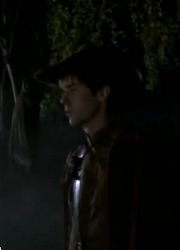 Some weeks later, Timon left the monastery, ready again for the world. When he was out of sight,  Brother Kalas appeared on the road, approaching as if to bid farewell. The deception ultimately cost Timon his head and Quickening.
The battle, however,was witnessed by MacLeod, who reported Kalas's treachery to Brother Paul. As a result, Kalas was forever expelled from the sanctuary of St. Christopher's.