Timeless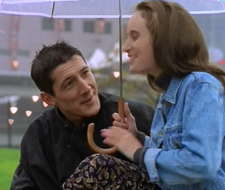 Credits

Written by
Gregory Widen
Karen Harris
Directed by
Duane Clark
Produced by
Ken Gord
Broadcast On
January 29, 1996
Running Time
60 min.
Production Code
95411-77
Synopsis
[
]
World class pianist, Claudia Jardine, has a secret that even she doesn't know — she's destined to become Immortal. Immortal impresario Walter Graham, who has guided the careers of mortal greats like Shakespeare, sees his chance to shepherd Claudia's genius forever, and is trying to kill her to trigger her latent Immortality. MacLeod is trying to stop him, but ultimately fails. Graham's success has unforeseen problems, however.
Meanwhile, Methos has fallen for Alexa, a waitress at Joe's tavern. She has a secret of her own.
Cast
[
]
Crew
[
]
Directed by: Duane Clark
Quotes
[
]
Methos: Joe, I didn't ask for your opinion. I know she's dying, okay? You are all dying. Twenty years. Six months. What's the difference?

Continuity
[
]
This is the only time Methos' Watcher tattoo appeared on his right inside forearm, all other appearances of the tat including Chivalry and One Minute to Midnight, the tat is inside his left wrist
DVD & Other Releases
[
]
Details
[
]
Original air date: 4 February 1996
Written by: Karen Harris
Video
[
]