Thick As Thieves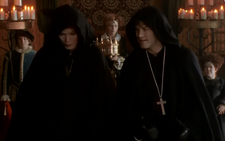 Credits

Written by
James Thorpe
Directed by
George Mendeluk
Broadcast On
April 19, 1999
Running Time
60 min.
Production Code
98118-218
Synopsis
[
]
Nick and Amanda are hired to protect a casino from robbery only to be outfoxed by an Immortal friend of Amanda's - a thief whose career sits badly with the veteran Interpol detective who's hot on his trial. Their efforts are in vain, as they are knocked out with gas and the casino is robbed anyway. Nick is determined to bring those responsible to justice, but there is one problem--the ringleader is Jeremy Dexter, an immortal with whom Amanda was once involved, and she is determined to protect him.
Cast
[
]
Elizabeth Gracen - Amanda Montrose
Paul Johanssen - Nick Wolfe
Hannes Jaenicke - Bert Myers
Robert Cavanah - Liam Riley
Patricia Gage - Lucy Becker
Crew
[
]
Story Notes
[
]
Continuity
[
]
Nicolae Breslaw first appeared in the Highlander: the Series episode Valkyrie.
DVD & Other Releases
[
]