Stanley Benjamin Kirsch was a native of New York City. He made his screen debut at the age of four as a Campbell's soup kid on a commercial, but his parents decided it would better for him not to pursue a career as a child actor. He instead pursued an education, and while in high school, developed an interest in politics. He represented New York State at the National Teenage Republican Convention in 1984. He would then graduate cum laude from Duke University with a degree in Political Science.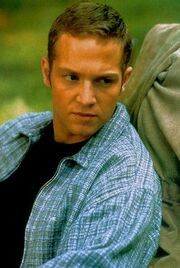 During his twenties, Stan was drawn back into acting. He appeared on a children's show,
Riders in the Sky
in 1991; and in
General Hospital
in 1992, and starred in a Schoolbreak Special,
Please, God, I'm Only Seventeen
, later that year. He also read for a part in the as yet un-cast series based on the 1986
Highlander
film. The character was then known as 'Sammy' and was to play opposite a protagonist called Connor. Things had changed by the time the series aired, however. Stan played Richard H. Ryan, known to his friends as Richie, and he remained a regular or recurring character for five seasons, progressing from callow youth to troubled young immortal, to a trusted companion. He appeared only for the finale in the sixth and final season.
He has also appeared as a guest star on such television series as Friends, JAG, First Monday, Beyond Belief: Fact or Fiction, Invincible, and Family Law. In 2004, he made his debut as a screenwriter, director, and producer with the comedy short Straight Eye: The Movie.
In 2008, he and his wife founded Stan Kirsch Studios in Los Angeles, where he serves as an acting teacher and private coach.
Kirsch's death was confirmed on January 13th, 2020.
Miscellaneous Information
Edit
Fluent in French and Spanish.

Author of the short story, "From the Grave," in the Highlander anthology, An Evening at Joe's.
Community content is available under
CC-BY-SA
unless otherwise noted.