Robert MacLeod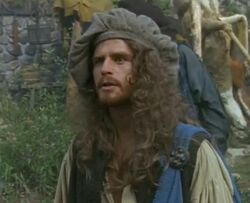 Statistics

Name
Robert MacLeod
Died
Killed by Duncan
Nationality
Scottish
Portrayed by 
Scott McNeil
Robert MacLeod was Duncan's closest friend in childhood, however, their friendship fell apart because they fell in love with the same woman, Debra Campbell.
Robert was engaged to be married to Debra. Because Duncan couldn't be with Debra, he gave her a bracelet to remember him. When Robert found out about the gift, Robert challenged Duncan to fight, which ultimately led to Duncan killing Robert in front of the whole clan. Duncan was devastated by what he had done but his father allowed that he had acted in honor and his mother comforted him.
"You'll not make me a cuckold. Draw your blade."