Reggie Weller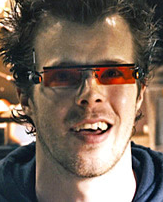 Statistics

Born
1706 - East London
Origin
English
Status
Deceased (after 2012)
Occupation
Astronomer
Portrayed by 
Stephen Wight
Reggie Weller was an Immortal working as an astronomer, who was part of the group seeking the mysterious Source in the movie of the same name.
Personal History
[
]
Reggie was born in the year 1706, growing up in the slums of East London. During the journey undertaken in the film, he said, "I'll be 314 three weeks from next Tuesday, I'm only a wee lad compared to Giovanni and Methos."
Accompanied by Duncan MacLeod, Cardinal Giovanni, and Methos, the quest for the Source took them to a savage island somewhere in Eastern Europe. They were warned that the closer they got to the Source, the weaker they would become, eventually losing their Immortality. During a pause in their journey, Reggie was stabbed to death by The Guardian, but not beheaded. The rest of his group took his body along with them until they realized that he would not revive. He was buried on the island.