Passion Play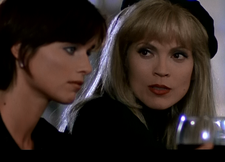 Credits

Written by
Morrie Ruvinsky
Directed by
Dennis Berry
Broadcast On
November 23, 1998
Running Time
60 min.
Production Code
98110-210
Synopsis
[
]
In 1963 Lucy was married to an immortal actor, Marco Becker. He had a long history with Amanda, and Lucy felt jealous and inadequate witnessing their rapport. Wilson Geary stalked Lucy, arranging for her to miss a night at home. Wilson sought out Marco and told him that Lucy was dead. When Marco stormed Wilson's place, he was waiting and killed him.
In present day, Lucy wants revenge on Wilson. Nick and Amanda team up to restrain her and hear both sides; He said - self defense from a jealous husband. She said - ambush and murder. His true colors are revealed at the end.
Cast
[
]
Elizabeth Gracen - Amanda Montrose
Paul Johanssen - Nick Wolfe
Hannes Jaenicke - Bert Myers
Robert Cavanah - Liam Riley
Patricia Gage - Lucy Becker
Michael Copeman - Carl Magnus
Crew
[
]
Story Notes
[
]
In the episode, in 1963, Lucy appeared with her husband, Marco, in a play entitled 'Timeless.' The title is a nod to the Highlander: The Series episode Timeless which also deals with a mortal/immortal romance, in that case between Methos and Alexa Bond.
Continuity
[
]
DVD & Other Releases
[
]