Naomi Camdessus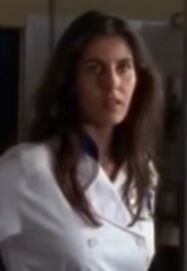 Statistics

Name
Naomi Camdessus
Nationality
French
Status
Alive
Occupation
Chef at the Le Cordon Bleu restaurant in Paris, France
Portrayed by 
Valérie Zarrouk
Naomi was a mortal woman and the reason that Hugh Fitzcairn stayed so long in Paris. He called her "Beautiful, intelligent.  A work of art." She was on staff at the Le Cordon Bleu with Fitz. "She's caring, intelligent, beautiful. Everything a man could ever want...She's the one."
Fitz told MacLeod that there had been hundreds - thousands - of women in his life but he never realized how lonely he was until he met Naomi, that it was like he'd been running around half blind and half empty for 800 years . Also at Le Cordon Bleu was Naomi's ex, Patrick, who continued to hound her about getting back together. She told him what happened between them was over, and he replied that they had to be together.
She was happy with Fitz, despite Patrick's obsessive pursuit, he even approached the couple with a gun, telling Fitz he would kill him if he did not stay away from Naomi.  Fitz replied, "This is extremely silly. You must love her very much. Or are you just jealous? You see, jealousy is just the love of one's self." He then proceeded to disarm Patrick, telling Naomi he was merely teaching a lesson he unloaded the gun and fired off the bullet in the chamber to frighten him.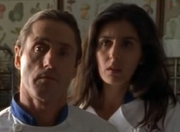 Meanwhile, in his ongoing campaign to destroy what and who MacLeod cared about, Kalas killed Patrick and then set up a frame for Fitz.  He called Naomi to meet at the office in Le Cordon Bleu where she discovered Fitz standing over Patrick's body. She asked what he had done,  "It wouldn't have mattered what he said... what he found out."  He tried to explain that he had not harmed Patrick, but she backed away.  He heard security, and leaped from the window, Naomi, cried, "Fitz, no!" as he jumped.  And his life in Paris, with Naomi, was over. 
Fitz later took Kalas' challenge for no other reason than the loss of Naomi, and the fact that Kalas had "...taken away the best life I ever had."