The originalHighlander film and the Highlander series featured music written and performed by the British Rock band Queen. According to film director Russell Mulcahey, Queen had done a great score for Flash Gordon, so "...we gave them a 20-minute reel of different scenes and they went: "Wow!" We'd only expected them to do one song, but they wanted to write one each. Freddie Mercury did Princes of the Universe, Brian May did Who Wants to Live Forever, Roger Taylor did It's a Kind of Magic."
The songs used in the movie appeared on the album A Kind of Magic, the twelfth studio album by the Queen, released in June 1986 by EMI Records in the UK and by Capitol Records in the US.
One Vision 5:11 A Kind Of Magic 4:25 One Year Of Love 4:27 Pain Is So Close To Pleasure 4:22 Friends Will Be Friends 4:08 Who Wants To Live Forever 5:17 Gimme The Prize (Kurgan's Theme) 4:35 Don't Lose Your Head 4:38 Princes Of The Universe 3:33
Extra Magical Ingredients [Bonus Tracks] A Kind Of 'A Kind Of Magic' 3:38 Friends Will Be Friends Will Be Friends... 5:58 Forever «One Vision (Extended Vision)» - 1991 Hollywood Records
2011 Bonus EP & iTunes Edition Videos 1. "A Kind of Magic" (Highlander version) 4:22 2. "One Vision" (single version) 4:00 3. "Pain Is So Close to Pleasure" (single remix) 3:57 4. "Forever" (piano version) 3:20 5. "A Kind of Vision" (demo, August 1985) 3:23 6. "One Vision" (live at Wembley Stadium, 11 July 1986) 5:12 7. "Friends Will Be Friends Will Be Friends"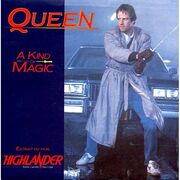 Highlander: The Original Scores, an album featuring music from the first three films, was released in 1995.
Community content is available under
CC-BY-SA
unless otherwise noted.