James Thomas Kevin Byrnes  is a native of St. Louis, Missouri. He learned to play blues guitar as a boy and played his first professional gig in 1964. Drafted, he served on tour of duty in Viet Nam, and later studied acting at Boston University and St. Louis University. A serious accident in February 1972, when he was struck by a car, cost him his legs.
Career
[
]
He moved to Vancouver, BC, Canada in the mid-1970s after years of working odd jobs and playing music. In 1980, he made his film debut as a singer in the Dennis Hopper film, Out of the Blue. In 1981 he put together a band and released an album called Burnin'. In 1987 he landed his break out role, Lifeguard, in the television series Wiseguy, which ran for four seasons.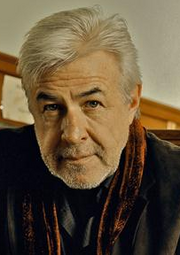 He then lent his voice to a number of animated series and movies such as G.I. Joe, Camp Candy, Madeleine, A Klondike Christmas, Adventures of Sonic the Hedgehog, and Conan the Adventurer. In 1993, he earned a role in Highlander: The Series during its second season as Joe Dawson in an episode entitled The Watchers. Originally only slated for a four episode arc, he made Dawson his own and remained with the series, an integral character, until the end of its run in 1998.
He continued working as a voice actor after Highlander wrapped in such progams as Andromeda, X-Men Evolution, and Stargate: Infinity and released several albums of blues music such as That River, Fresh Horses, and House of Refuge. He also appeared in several television shows with his friend and former Highlander co-star, Peter Wingfield, such as Cold Squad, Sanctuary, and First Wave as well as guest appearances in numerous television series such as Dead Zone, Supernatural, V, and Copper. He also reprised the role of Joe Dawson in the two Highlander movies, Endgame and The Source.
In 2012, along with many of the former Highlander cast, he lent his voice to the animated feature film, War of the World: Goliath. He also released an album entitled I Hear the Wind in the Wires, a collection of songs from the golden age of country music.
He still plays more than 100 dates each year.