Highlander: The Animated Series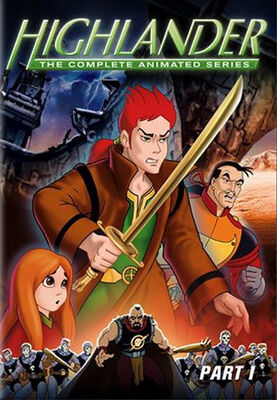 An animated spin-off of the film series aimed at a young adult audience, Highlander: The Animated Series featured the exploits of Quentin MacLeod in the far future.
Summary
[
]
In the future, an asteroid strikes the Earth, causing an event known as the Great Catastrophe and laying waste to human civilization. Calling a meeting, the Immortals take a vow to give up The Game and use their knowledge to guide humanity back from the brink of annihilation. All agree to this except Kortan, who sets himself up as a tyrant ruling of the city of Mogonda. Connor MacLeod attempts to stop Kortan but is killed, but not before he predicts the coming of another Highlander, one who is not bound by their oath of non-combat.
Seven centuries later, Quentin MacLeod is killed by Kortan's men when they come to capture him and his fellow villagers as slaves. His immortality awakened, he finds himself tasked with the mission of ridding the shattered world of Kortan's tyranny. Don Vincente Moreno Ramirez accompanies the young Immortal, leading him to the Jettators that he might acquire their knowledge and powers one by one.
Episodes
[
]
Season One
[
]
The Last of the MacLeods
A Taste of Betrayal
The Last Weapon
Melvyn The Magnificent
The Sound Of Madness
The Suspended Village
Exodus
The History Lesson
The Cursed
The Valley Of The Thorn Pods
Fallout
The Courage Of Love
The Setup
Season Two
[
]
The Sword Of Evil
The Eye of Heaven
The Price Of Freedom
The Treasure In The Sand
Orane
The Secret Prison
Dead Ringer
Orion's Reign
Rage Of The Hurricane
Oblivion
Lord For A Day
The Siege Of The Dundees
The Blood Of My Enemy
Valka
The Survivors From Outer Space
King Of The Ants
Eagle Valley
Isle Of Grans
The Revenge Of The Shantytown
Trick Of The Light
The Double
Cult Of The Immortal
Playing With Fire
Tricks Of The Mind
Matsuda
Ice Dwellers
Countdown
Characters
[
]
Protagonists
[
]
Notable villains
[
]
Jettators
[
]
World
[
]
Locations
[
]
The Highlands
Giant Prison
Creatures
[
]
Giant lizard
Mule
Gurrans
Factions
[
]
Hunters
Bureaucrats
Mogonda City Guards
Dundees
MacLeods
The Tohaars
The Digits (The Prisoner)
The Hurricanes
The Tarmal
The Paleys
The Rainbows
The Heavenly Soldiers (Followers Of Orion)
The Sky People
The Igloos
The Carians (The Ship Builders)
The Desert Tribe
Trivia
[
]
A video game based on the show was released for the Atari Jaguar.
Every Immortal in this show wears a jewel, which in some episodes glows to represent The Buzz.