Hideo Koto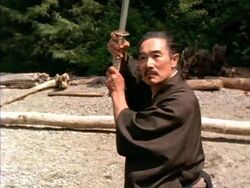 Statistics

Nationality
Japanese
Status
Dead (committed ritual suicide)
Occupation
Samurai
Portrayed by 
Robert Ito
A samurai who served as a teacher to
gaijin
Immortal Duncan MacLeod.  Because of his involvement with an outlander, his lord ordered his suicide.
MacLeod promised his friend, that should any of his decedents ever need help, they need only ask Duncan MacLeod. In return, Hideo bequeathed to Duncan his dragonhead katana, which would be the Highlander's weapon of choice from that day forward.
Miscellaneous Information
Edit
Robert Ito also appeared as Johnny Leong in the episode Revenge of the Sword.