Hamza el Kahir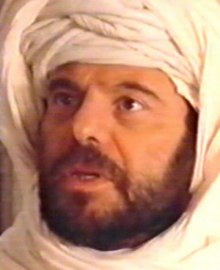 Statistics

Aliases
Hamza ibn Mohammed al Katib
Born
c. 600, Makkah, Arabia
First Death
c. 645, in battle
Teachers
Salim Ubadah
Pupils
Kassim
Origin
Muslim Arab
Watchers
Tezanaya el'Amin
Status
Deceased, head taken by Xavier St. Cloud, 1653
Occupation
Teacher of the sword, poet, soldier
Portrayed by 
John Suda
Hamza El Kahir was born around the year A.D. 600 in the city of Mecca. He was an early supporter of the rise of Islam, and died about 645 in battle. He then went to Damascus, 661-750, capital of the Islamic Umayyad Caliphate. There he learned the art of sword forging.
Hamza was the first teacher of Berber immortal,
Kassim
ibn Muhammad, about 1152 in North Africa. Later he traveled to Granada in southern Spain. There he spent a good two hundred years until the end of the 15th Century. Grenada was the last Muslim state in Spain. In Granada, Hamza crafted his masterpiece: a sword, which he named "daughter of justice." The next years were spent in Rabat Hamza, later he moved to Algiers. In Algiers, Hamza operated as a poet and teacher of the martial arts.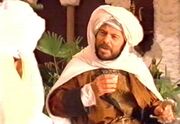 Hamza met Immortal,
Duncan MacLeod
and freed him from the Algiers slave market, but kept him as a student. On 16 Day of Rabi al-Thani, they met
Xavier St. Cloud
near Algiers. Xavier challenged Hamza. Hamza knew he was not equal to Xavier's skill and therefore decided to undertake the planned trip to Tunis immediately. But his student, MacLeod, refused to turn down any challenge. Hamza finally met Xavier to prevent Duncan from taking his place. He could not let his friend  give his life for him. Hamza El Kahir and Xavier St. Cloud fought in the desert, and although he was an excellent swordsman, he was bested and was beheaded.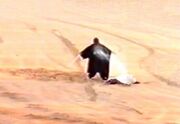 Miscellaneous Information
Edit
His sword was forged by Hamza, himself, it was his masterwork. A lion's head hilt of rough silver with simple cross guard quillons.  The blade is a blue-grey metal, the extreme curve of the blade provided extended contact through the flow of circular slashes of the Arab style of combat.  Along its length a gold inlay inscription of Arabic characters named the sword: Daughter of Justice, Taker of heads, Giver of Mercy, Drinker of the Blood of Infidels.