Graham Ashe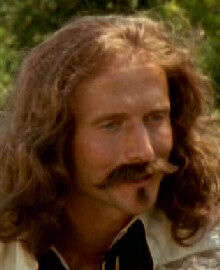 Graham Ashe was born in sometime in the early 12th century B.C. and his first death occurred about 1150 B.C. during the fall of Troy.
He was found by immortal, Aganesthes of Tiryns, who taught him the rules of immortality. He developed  not only as an excellent and innovative swordsman, but was an exceptional person whose wisdom, good character, and love of life made him a sought after teacher. He would go on to teach such outstanding swordsmen as Hans Kershner and Juan Sánchez Villa-Lobos Ramírez.
Ashe met Duncan MacLeod in 1657 and began to teach him his way with the blade. They became good friends despite their differences, not the least of which were vast age and temperament differences. 
That same year, the Immortal, Haresh Clay and his squire, Carter Wellan arrived in southern Europe is search of the vaunted swordsman. Eventually, Clay challenged Ashe and defeated him, but then in an unprecedented action, Ashe asked to be spared, so that he might continue to teach and enjoy his life.  Clay had no sympathy for such a request, to him immortals challenged and fought to the death, with no quarter, no exception, and he took Ashe's head and quickening.
Personality and Fighting Style
[
]
Despite his fame as a sword master, Ashe was not a warrior so much as an artist. He emphasized the importance of living a joyful life, and considered fighting more as a dance or an art. He may have had another attitude in the distant past, but by the 17th century, his style was rather playful and lacked any use of brute force.
Of course this reflected the period of more elegant swordsmanship. Due to his superior skills, Ashe had little to worry against common adversaries. Aggressive fighters with a skill level of Haresh Clay, however, could and did overpower him.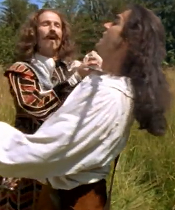 Trivia
[
]
Ashe was played by Canadian-born actor Chris Humphreys,  he has since carved a niche for himself as an author of historical novels under the name C. C. Humphreys.
In the episode "The End of Innocence," prop duplicates of Ashe's broadsword can be seen at the sword exhibit at the museum that Richie breaks into.