An American actor, born in Urbana, Ohio, he is the son of former US representative Clarence J. Brown.  He got his start at Northwestern University on a track scholarship as a discus-thrower, after two seasons, however, he entered the theater program, followed by a stint in Chicago theatre before making his screen debut in
Bad Boys
in 1983. He is probably most famous for playing
The Kurgan
in the 1986 feature film,
Highlander
, his breakout role. During Highlander, he made lifelong friends with
Bob Anderson
, the swordmaster for the film.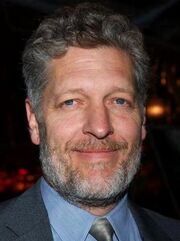 His career encompasses well over 200 credits including movies like The Adventures of Buckaroo Banzai Across the Eighth Dimension, The Shawshank Redemtion and Cowboys vs. Aliens, television programs including Earth 2, Patron Saint of Liars, and ER; and voice over work for both animation and video games such as Spongebob Square Pants, and Star Wars: Bounty Hunter.
Is a founder of the Beth Brown Memorial Fund, a scholarship program designed to assist deserving students who wish to study in the field of pediatric healthcare. The charity was founded in honor of his elder sister who died from childhood of leukemia in 1964. The Fund has since expanded to also offer the Clarence J. Brown Scholarship for students interested in pursuing careers in government and public service, as well as the Robert Townsley Scholarship for students of journalism.