Armando Baptista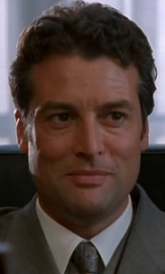 Statistics

Name
Armando Baptista
Born
October 13, 1950 in Buenos Aires, Argentina
Nationality
Argentine
Status
Alive
Occupation
Owner and editor of "El Diario de Buenos Aries" newspaper
Portrayed by 
Grant Russell
Duncan MacLeod ran into Armanado Baptista in Paris when both men were practicing their fencing at a salon. MacLeod recognized him as having fenced for Argentina in the 1984 Olympics, and Baptista invited him to lunch. MacLeod, however sensed another immortal when leaving the salon, and he stopped her from killing Baptista from ambush.
When MacLeod again encountered the potential assassin, he discovered her name was Katya, and that in 1958 she had adopted a 6 year old girl named Elena Moreno. In 1982, Elena married Armando Baptista a prominent newspaper publisher. They had a daughter they named Mia.
In 1996, Katya arrived at her daughter's house to find that Baptista had shot her. Elena died en route to the hospital with Katya at her side. The police had taken Baptista into custody and he stood trial for murder. He testified that after ten years of marriage, Elena had betrayed him with his right hand man, Ramon Castillo. He was informed of the affair and was shown photographs, when he returned home in an emotional turmoil, he happened to discover Ramon and Elena together, he picked up a pistol, and shot them both before collapsing in tears. He called the ambulance himself.
The Argentine court acquitted Baptista of murder, believing there was no thought, no plan behind the killings. But Katya wanted revenge, believing he got off because he was wealthy and influential, so she followed her son-in-law to Paris. MacLeod warned Baptista that Katya was unlikely to go away, and so he planned to take his daughter and close up his house. But Katya still pursued Baptista, and forced him into a duel, his 'one chance' but Mia walked in on them as Katya had her blade to Baptista's throat,  he asked Katya to take care of his daughter. It was not until that moment that she realized the Mia loved him and she could not make her granddaughter an orphan.